Mid-winter most of us hunker down under cover. But not the Old Timer. Here is his report on the late July Waimate sprint.
On a fine frosty morning 30 cars lined up for a timed sprint on the outskirts of Waimate Township. The sealed course had a short straight to a tight right hander that was wet all day with water coming out of the tyre bundles. Then down a straight, with a very fast right hander, to a hairpin lined with massive concrete blocks. Back onto a straight and into the final left hander and through to the finish line.
A short but interesting sprint with three runs before lunch, and three more after, with a top ten shoot out for final placings.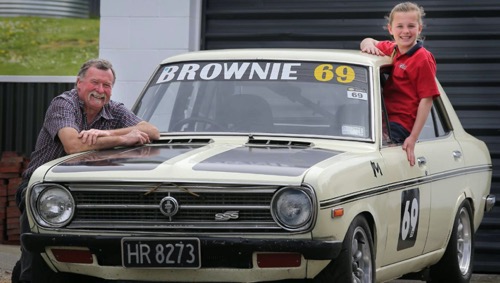 1st Leigh Shaw Ford "Angary"
2nd Justin Mclean Mazda RX7
3rd Bryce Mitchel Shellsport Starlet
4th Bruce Brown Datsun 1200 SSS
5th Dan Haworth Mazda RX7
6th Gavin Jackson Triumph 2500
7th Kurt Aikman Nissan Primera
8th Jesse Wilson Nissan Primera
9th Mark Van Asperen Toyota Levin
10th Kevin Jones BMW 535
Leigh Shaw's winning performance in the "Angary" was so special. This was the first outing for this beautifully fabricated race car that took him 12 years to build. It is a 105E Anglia with a worked rotary engine and massive flares, finished in a pretty yellow with wide period minilite style wheels.
Gavin Jackson's performance in his Triumph 2.5 was outstanding. But wait and watch for his new car, another Triumph with a lightweight V8.
Greg Campbell, a Triumph legend, had his potent noisy bucket dragster out laying huge patches of rubber during his demo runs.
The Waimate Car Club has two Nissan Primera's set up for 2K cup and club racing. These are available for hire and good to see future racers making use of these.
Trevor Joyce had his "Rovescort" out for the first time (yes an Escort Mk 1 with a Rover V8 engine). Having recently purchased this car from the far north.