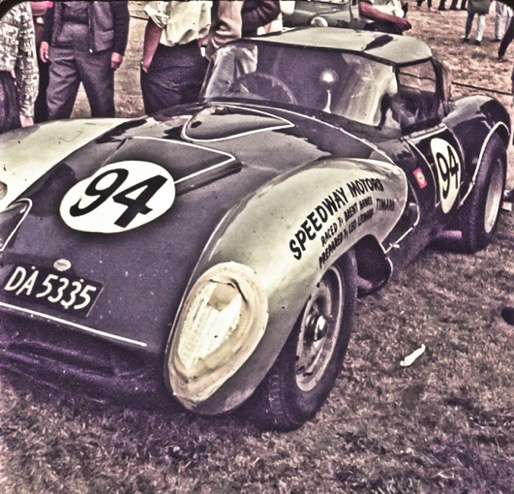 The snoop has ferreted out a dusty old photograph of a sports car attempting to disguise itself as a saloon. I remember it well, having been perplexed by it myself when I first came across it. It is the ex Frank Cantwell Tojiero Jaguar on it way down the food chain. At Wigram in 1965 it was in the hands of Brett Hawes, running in the sports car race in its "proper" form, and again in the all comers with a vestigial roof fitted. (There were no rules in those days as to what constituted a saloon car, let alone an all-comer). On its own this is a question that has never really gone away. Does a tin-top alone make a saloon car? What about a tin top but only two seats? Back in the '60s a flurry of rule making ensued, sports racing cars were sports cars – surely? The "fix" was a rule on minimum passenger compartment area. I never saw the Tojo again, neither as sports nor saloon, but it hung around NZ for many years to come.
But where did it come from and where did it go. The car itself still exists, returned to the land of its birth, but with a gap in between its last appearance in NZ and its eventual home coming.
John Tojiero was one of the English car makers of the fifties. More that a specials builder but less than a full scale manufacturer. All in all he made 30 or so cars over a 15 year period. His first attempts were startling, resulting in an introduction to AC Cars and their adoption of his basic design for the AC Ace, eventually to morph into the AC/Shelby Cobra. We owe him a lot. He was one of the last "artist" designers before the scientists took over.(Google classiccars4you.com to find quite a few of them, select "our pictures" and then select from the manufacturers menu).
Tojiero had a Jaguar engined car in mind from early on, but was concerned as to whether his basic ladder chassis would be able to handle the power and weight of that engine. By 1954 he had laid out a spaceframe, initially for Bristol or bigger engines, and it was that design that was adapted and upscaled to accept the Jaguar running gear, as well as being downscaled for 1100cc racing. The Cantwell car was the first Tojeiro Jaguar. In all four were made, one each year from '56 to '59. They were all regarded as iffy handlers, something that today we would put down to aerodynamic lift, a black art back in the fifties. But the first one was iffier than the rest, being both shorter in wheelbase and narrower in track than the later cars. Frank rolled it and watched it burn at Teretonga in his first season with it. Rebuilt with a 3.8 engine he then ran it in New Zealand and Australia.
Passing down the chain it reached Kenny Smith, and was displayed, in very tidy restored condition, at a late '70s Benson and Hedges meeting. It was sold into Australia but had found its way back to England by the mid '80s. The photo below shows it at Donnington Park 1n 2007, still looking much as it did when Frank first got hold of it. The bodywork of this first car is pretty much like the contemporary Tojiero Bristols. The later cars had sleeker fare.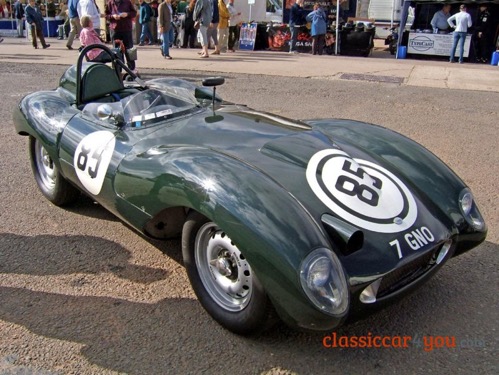 Of the four Jaguar engined Tojieros only one, number 3, was never crashed. Photos of the two surviving cars show them both bearing the same registration number "7 GNO". Not unusual in pommie 1950's practice, with car number 1 on its way to New Zealand car number 3 took over its registration identity. Why pay twice? Outside of Frank's car two of the others were written off. Number 2 by John Ogier at a Hillclimb in late 1957, and number 4 by Masten Gregory at Goodwood in 1959. (A steering failure prompted Masten to crouch up on the drivers seat before impact with the Woodcote bank. A flying jump completed the exit process. A broken leg and broken shoulder ended his 1959 season, but staying with the car would have been much much worse.