This Classic and Historic Motor Race Meeting is an annual invitation event for people who are currently involved in Historic and Classic car racing. The meeting is solely organised by The Classic Motor Racing Club of New Zealand Race Committee and is run on the day(s) by the South Canterbury Car Club team.
We invite competitors to apply to enter the above event – Supplementary Regulations for other events in the series will be available from their respective organisers.
The South Canterbury Hydraulics Southern Classic is part of the Southern Festival and it is organised by members of the three major racing clubs in the South Island – The Canterbury Car Club, The Classic Motor Racing Club of New Zealand and the Southland Sports Car Club Inc. Each Club arranges its own program of events and hospitality for competitors. These events are promoted by the organisers to encourage spectator attendance.
The aim of the series is for all participants to have entertaining racing where the focus is on competing rather than winning trophies. Because the fields are larger, recent grid race experience is essential. Because of the number of events in the series, a high level of vehicle preparation is required.
Ticket Price for spectators on the Saturday or Sunday is $20 for the day, or just $25 for the whole weekend.  Children 12 and under are free.  Tickets are available at the gate.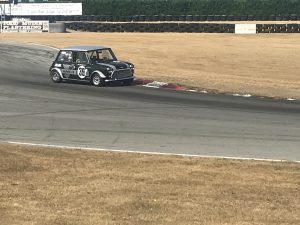 Angus Fogg in qualifying; taking a break from the Mustang to put the Amco Mini on pole at Levels 2020.
The programme is attached below
Southern Classic Programme 2020
---
Featured classes will be:-
50th Anniversary of OSCA,
60 years of MINI,
Classic Saloon cars ,
Continental Rennsport ,
Sports & Gts,
Historic Muscle and Racing Saloons.
Formula Libre & Historic FF,
VCC & Historic's,
Mobil1 Mainland Muscle Cars
More information: